Presents
Wysiwyg Orange Is The New Black
Sire: Sup Ch Wysiwyg Not a Moment Too Moon
Dam: Aust Ch. Topgeer Retail Therapy
Whelped: 2019
Eye cert & hips info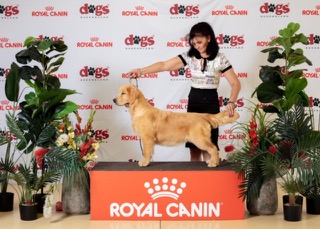 Achievements:
Piper is our cheeky girl. She is Badru's daughter who has surprised us. We never planned on this breeding but her mum refused to ovulate in time for frozen so my vet chose badru to breed her to. I was not happy and wanted another male for her. But he said it was Badru or none at all!! LOL. Well who would have guessed that a vet would be right??!
This girl has been impressive since day one. The whole litter was born stunning. But this girl, every time I said she was going, I would look outside and she would impress me with something else. Then the judges would move her to the front and the compliments kept coming. And I have to eat my words to my vet (HAHA!).
Since coming out of baby puppy she has even beaten adult dogs and has won Runner up Best of Breed a couple of times against her own sire!
Piper is total DNA clear by parentage, which is another feather in her cap. Her litter brother has also been kept for showing. But we placed him with a family on show terms. Watch for him later next year.
Pedigree

Parents
GrandParents
GreatGrandParents
SIRE

Sup Ch Wysiwyg Not a Moment Too Moon

Am. Ch. Can Gr Ch. Aust. Sup. Ch. Nautilus Great Barrier Reef @ Online (USA)

BISS GCHB CH Nautilus Timber TKN OS
Nautilus Queen Of The Jungle OD
Aust Ch. Wysiwyg First Time In Forever
Aust. Supreme Ch./Am./Can. Ch. Edgecombe's Wysiwyg Chaos Bound For Botany Bay (Imp USA)
GCH CH Edgecombe's Bay Brynne

DAM

Aust Ch. Topgeer Retail Therapy

Am. Ch. Can Gr Ch. Aust. Sup. Ch. Nautilus Great Barrier Reef @ Online (USA)
BISS GCHB CH Nautilus Timber TKN OS
Nautilus Queen Of The Jungle OD
Topgeer I Need A Hammer
Aust. Supreme Ch./Am./Can. Ch. Edgecombe's Wysiwyg Chaos Bound For Botany Bay (Imp USA)
Wysiwyg Right Here Right Now