Havoc sadly passed away in 2017 from a paralysis tick straight after he returned from filming the Aquaman movie.
It was a very sad and untimely death. To the people who have enjoyed his babies, I wish you many long and wonderful years with your Havoc baby. To the people who missed out, well we did keep some semen and one day down the track we may have that special girl to go to our Frozen Havocs. Until then we will enjoy his kid and grandkids he has left us, and know that he is looking down from the heavens and wagging his tail proudly at them :). Definitely a great loss to us here at Wysiwyg.
Havoc and James have a good play after a show one day. Enjoying the moments.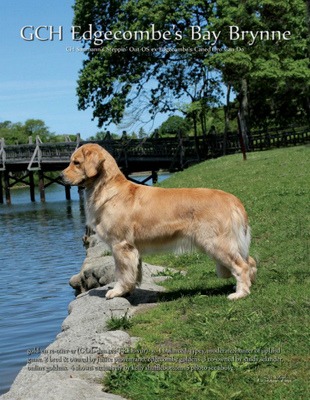 Havocs stunning mother in the USA.
Achievements:
Havoc at his first show in Australia won Res Challenge Dog and Best Puppy in Group under Gundog Breeder/Judge Ms. L. Smith (Vic). We were thrilled of this achievement as this boy had never been in a show ring or ever learned how to show stand or even prep for a show. This win was only a week out of Quarantine. The next day Havoc won again Res Challenge Dog and Best Puppy of Breed. And since then he has been in the Puppy in Group line up for every show he has been entered at (meaning he has won best puppy of breed at all shows).

We are very excited about this boy and know he has a big future ahead of him. He was claimed that he was from Golden Retriever Royalty, as his sire 'Chaos' being one of the Greatest Goldens in Modern Day Showing, and the mum has been a charmer since the first day I met her, a Grand Champion in my eyes as well as in the Showring.

Thankyou to everyone who has supported this guy and helped us get him out to Australia a big thanks to Deb Contardi (Triskallion Irish Setters and Whippets) for caring for him while in the USA. And thanks to his breeders Janice Provenzano (Edgecombe Goldens), Sandy Selander (co-breeder) and the stud dog owner Tonya Struble (Rushhills) for sending me such a wonderful boy. I hope he makes you proud out here.
STOP PRESS!!! HAVOC IS BACK IN THE STATES!!! He has returned for 12 months so he can gain his American and Canadian Championship title. His first show in the USA was the American GR National under Breeder Judge Manuel Queijeiro (Mexico) and won Novice Class.

Havoc was then sent straight up to Canada and within 5 shows gain his Canadian Championship. Havoc has since won a Winners dog at a GR Specialty and recently a Best in Group and has completed his title. All well under the 12 months we gave him to complete. At this stage we are waiting on his count down for days to be allowed back into Australia, so his showing will be now done in the Best of Breed classes because he has become an American Champion.

Well done Havoc!! You are a gorgeous boy and when you return to Australia you will have a permanent spot in our hearts and our yard as you have done enough traveling xxx

WAIT! THERE'S MORE!!!
HAVOC is now a Golden Retriever Breed Record Holder! He is the first to make the Triple Crown of Australian, American And Canadian Champion Title. All at the grand age of 2 years!.
Havoc was No. 1 Golden Retriever in Qld 2016, and No. 1 Gundog in QLD 2016.
This dog still has a long way to go in his career at such a young age we have a lot of opportunities to seize!. Watch this page to see what is next.