Presents
Aust Grand Ch. Camelot's Always in Trouble at WYSIWYG (Imp USA)
Holds Breed record for being the first Import Golden to make his Grand Champion Title in Australia (excluding NZ)
Sire: Okeechobee Tribute To Johnny
Dam: Camelot's Okeechobee Intoxication CCA
04/05/2008
Hips: 4/4 (8) Elbows: 0/0 Clear eye and heart.


Trouble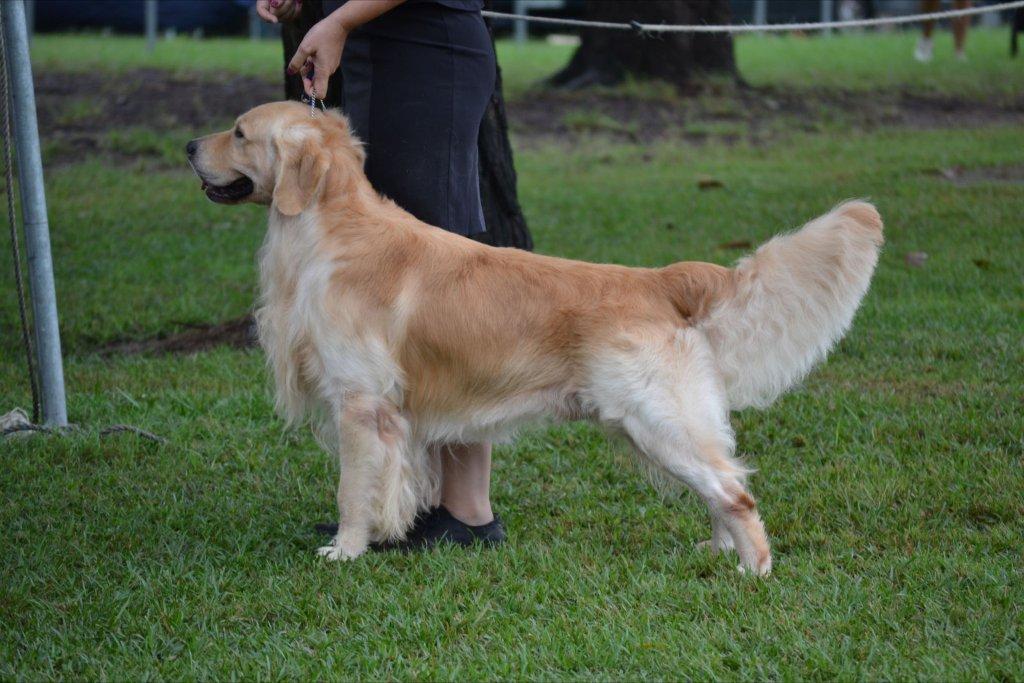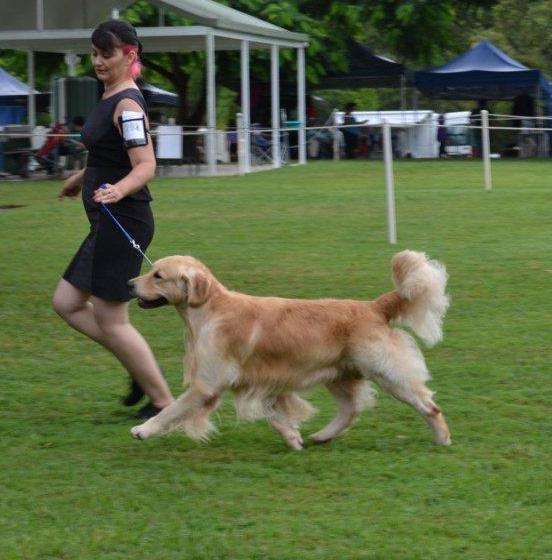 Achievements:
After a hold up due to weather and US postal service losing paperwork, we can finally breath a little easier knowing he has finally arrived with the all clear.
Trouble has certainly so far lived up to his name with everything that has gone on so far. We can only hope that things become easier :).
We are looking forward to a bright new future with this boy, and hope that he can achieve as much and if not even more than his half brother, Simon, Aust. Ch. Camelot Quapaw's To Oz & Back (Imp USA) who is now back in the US and has done well so far in the US show scene.
Trouble is reintroducing Simons line as well as enhancing the famous "Okeechobee" kennel into the line and Australia.
He is beautifully line bred and would be a credit to anyone wanting to have a line bred stud for consistency in looks.
With his 10-generation COI at 14.82%.
He has good bone and substance to give out and a wonderful outgoing nature as well and a cuddler to the kids.
Before leaving the States, Trouble already had been cleared in the USA for Eyes, Heart and we have certified him here in Australia for his hips and Elbows.
Trouble has completed his Show Title. With such a short time being here, and everything in between that has happened, we are pleased with his results and achievements to date.
Already a Multi Best in Group winner, Runner up Best in Group winner, and an Open Runner up Best in Show winner.
Trouble is now a Grand Champion!! He is the first American Import Golden to make this title in Australia. And the first Import to Australia (excluding NZ imports) to gain this title. He has been traveling a lot interstate chasing the big shows. Hopefully by the end of the year Trouble will be looking at a very restful retirement. Only ever siring one litter this boy has the love for the showring in his heart. He knows he is beautiful and that is all that matters. He is making his owner/breeder (Pat Herschman) in the US very proud.
Sadly Trouble passed away late last year. He lived a good old age and we are thankful that Pat sent him to us all those years ago for the fun we had. :)

A Special thank you goes to Robyn Brown of Piarki Goldens for care of Trouble while in Quarantine.



Pedigree of " Aust Grand Ch. Camelot's Always in Trouble at WYSIWYG (Imp USA)"

Parents
GrandParents
GreatGrandParents
SIRE

Okeechobee Tribute To Johnny

Mex CH Okeechobee's Johnny Be Good

Am Ch Okeechobee's Rock Hill Kidd SDHF
Okeechobee's Picture Perfect
Ceallaigh's Okeechobee Emma
Mex CH Okeechobee's Johnny Be Good
Ceallaigh's Aspen Christy

DAM

Camelot's Okeechobee Intoxication CCA

Camelot's Guilty By Association
Quapaw's I Be Bad
Camelot's Speaker Of The House
Okeechobee's Almost Easter
Mex CH Okeechobee's Timothy Mcnichol
Goldhaven Return to Okeechobee